Linking up with
Miss Mommy
for Tag Along Thursday Blog Hop.
LOVE finding more fun blogs to read and help inspire me. Now if I could just stop reading them all.....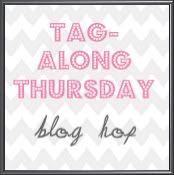 Did a lot of thrifting and Christmas Sampler with the girls today. So fun and so tired....
Here are some of my recent arts and crafts. I'm going to miss you maternity leave. You brought my mojo back.
My kitchen exploded.
Love how they turned out!
Still have to paint the unfinished hoops, and glue fabric in. Playing around with it for now. Get rid of the G? Paint the G? Different fabric on the G and attach where it is? This now makes me think of Misses G (Garrison) from Facts of Life. Also, holler at my gross carpet. Yum.
Goodwill Pillowcases for 50 cents and Embroidery Hoop from Hobby Lobby.
The cheapest things I have ever made. They could also look cheap and I'm just clueless. Tell me if they do. No, don't tell me if they do. Best $3 I've ever spent. Well, besides a Dr. Pepper & Reese's Cups
Can't. Stop. Buying. 99 cent. Frames. @. Goodwill.
Especially on Half Off Day.